In Search Of Good Times? Set Sail For The Island!
Everyone knows that visitors to the Great Smoky Mountains of Tennessee have a ton of options when it comes to selecting accommodations, restaurants, shops and entertainment. But there's one place in Pigeon Forge where they have all that in one convenient location. That's right; just park your car, and a short walk later, a whole lot of vacation goodness lies at your fingertips.
At The Island development, located just off the Parkway in the heart of Pigeon Forge, you'll discover a place where everyone in the family can indulge their vacation aspirations, with the added benefit of everything being only footsteps away.
For starters, you can actually stay multiple days on site thanks to the Margaritaville Island Hotel, with tropical-paradise-themed accommodations that embody Jimmy Buffett's trademark island attitude. Its modern amenities, high level of service and attention to detail make it a four-star lodging destination that benefits from the beauty of the Great Smoky Mountains.
When it comes to fun, The Island is one big playground for grown-ups and kids alike. You'll probably want to take a spin on the Great Smoky Mountain Wheel, a giant Ferris wheel ride that offers stunning views of the mountains. Each gondola is enclosed and climate controlled for year-round enjoyment. The Island also features a ropes course, gem mining, a mirror maze, an escape room, bumper cars and much more.
Another of the anchor attractions is the Alcatraz East Crime Museum, a 25,000-square-foot facility that offers 20 exhibit areas showcasing the history of crime, CSI work, crime fighting and counterfeit culture. Its interactive nature lets younger guests escape a jail cell, navigate a laser maze or take the Top Detective Challenge.
Hungry? Save your appetite for one of The Island's many full-service restaurants and concession vendors. Lots of folks go for the family-style, all-you-can-eat dining experience at Paula Deen's Family Kitchen as well as the laid-back, island-themed Margaritaville restaurant. Also look for Timberwood Grill (mountain flavors), Mellow Mushroom (pizza), Dick's Last Resort and a host of places to indulge that sweet tooth.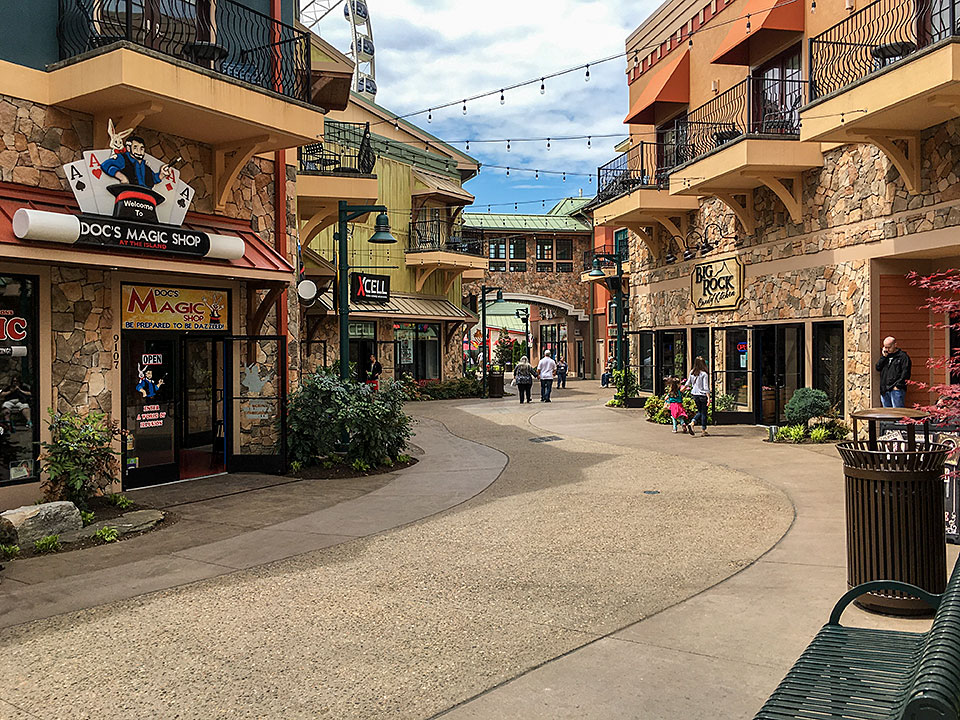 Finally, save time (and a few dollars) for shopping on The Island. You'll find more than 40 specialty shops on site, including the Paula Deen Store, Build-A-Bear Workshop, St. Somewhere Spa, Christmas and More, Doc's Magic Shop and Earthbound Trading Company, just to mention a few of the retail destinations to be discovered.